B Resort and Spa is a hotel located in the Disney Springs area area of Walt Disney World. The hotel is not operated by Disney, but rather is one of several third party hotels located on property.
The hotel offers several of the same perks as the Disney owned resorts such as a 60 day fast pass booking window and access to extra magic hours at the parks. While it does offer a shuttle to the parks, it is not via the Disney fleet of buses. It also does not offer Disney's Magical Express.
B Resort is a 4 star hotel with prices comparable, or even often below the Disney owned value resorts. This makes it one of the better values on property for those who are concerned more about luminary than they are theme.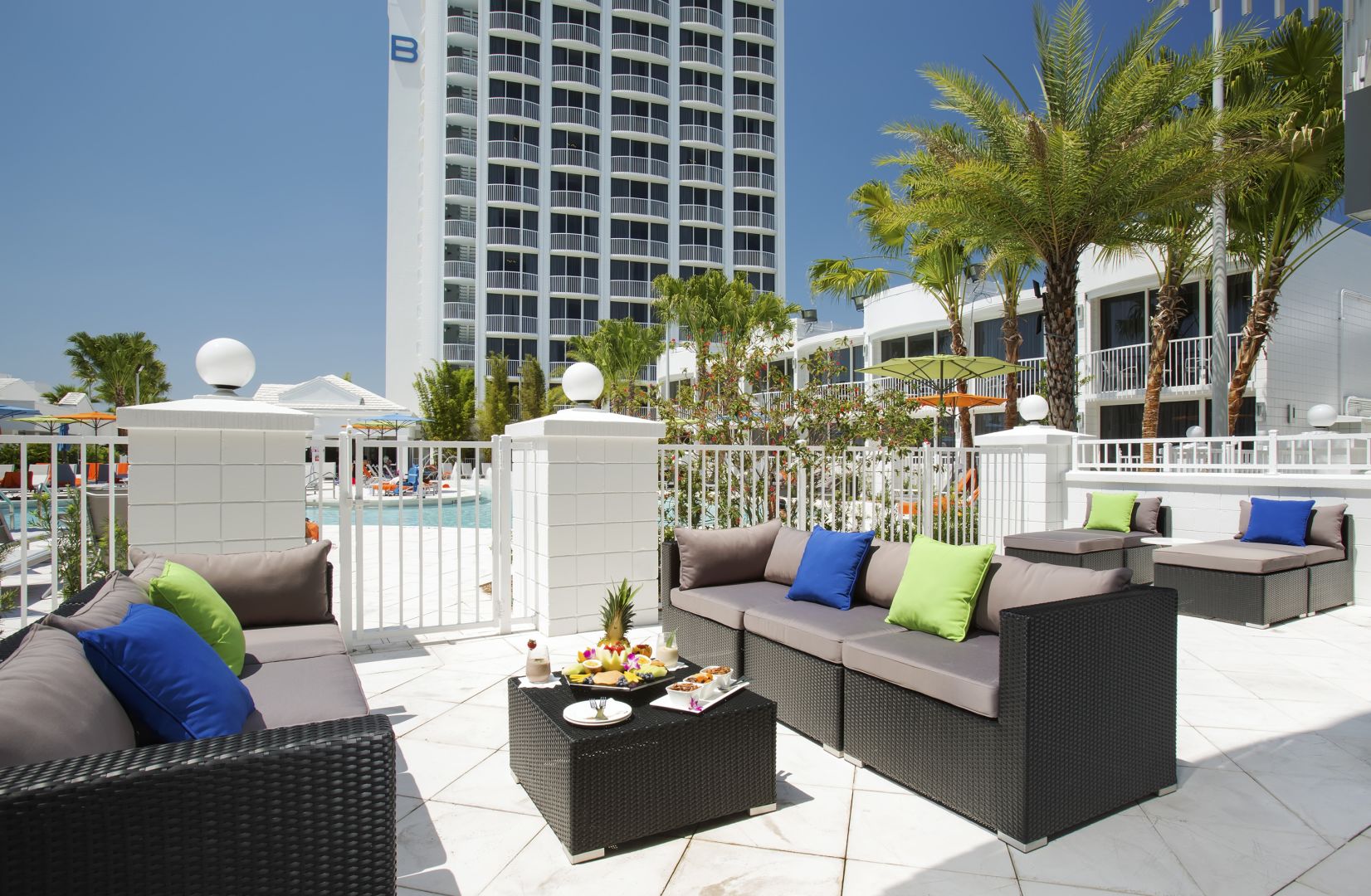 One thing to note however, it that the resort does charge a $30 per night resort fee. We absolutely loathe the current trend of these anti-consumer resort fees plaguing the hotel industry right now. All they do is allow hotels to advertise nightly rates for considerably less than they actually cost. The resort also charges $24 a night to park a vehicle.
The resort and parking fees are on top of additional taxes and fees paid upon booking. During a recent stay, we booked the hotel for 2 nights at an advertised rate of $108 per night. We paid an additional $31 per night in taxes and fees upon booking. Add the resort and parking fees on top of that and here is what we are looking at:
Nightly Rate: $108 x 2 = $216
Taxes / Fees: $31 x 2 = $62
Resort Fees: $30 x 2 = $60
Parking Fee: $24 x 2 = $48
Total Cost: $ 386 or $193 per night!
That is an actual cost almost 80% higher than the advertised nightly rate. Granted the parking fee is technically optional, but since the hotel doesn't offer Disney Magical Express most folks there will have their own vehicles.  That being said, this is still cheaper than a non discounted room at a moderate Disney resort, which would also charge you for parking.
The rate of $108 a night is also for a room in the "captivating" category, which is a room on an upper floor in the tower. We have often seen rooms in the standard "chic" category for as low as $75 per night. That cost would bring it more in line with the Disney value resorts, even with all the added fees.
The hotel itself is quite nice. Theme is practically non-existent, instead focusing on the current trend of white on white sterile look. This is a popular look in trendy hipster hotels these days, including several modern hotels we've stayed at in New York City over the past couple years.
As is typical with this style, a single vibrant color is usually thrown into the mix to add a much needed contrast. In B Resort's case, we get a nice deep blue to break up the monotony. The result looks nice enough, but there is still so much white that it all feels a bit too sterile for our tastes.
As you can see, the carpet in the hallways is really the only thing remotely interesting with the decor.
Let's take a look at the rooms themselves.
The rooms are quite spacious. They feature the same general designs of the common areas, however they do add enough decor to make it feel a bit more interesting. One very odd quirk about our room was that the majority of the outlets were "European style". We were only able to find 2 double outlets in the room that accepted our American style plugs, one of which was in the bathroom.
Even the two queen bed rooms feature a small couch which is nice.
I do like the carpet with its hidden Mickey design quite a bit.
Some interesting art pieces add a pop of color as well.
The chrome roto-dial phone completes the design.
The only clothing storage is this bumped out closet on the far side of the room. Some additional small drawers and a small safe can be found in there as well.
Each room has a very small balcony, however you can't go out onto it.
Bathrooms feature the glass box shower which is popular nowadays. We like this personally, however it could make things tougher for families getting ready. With the sink and toilet right next too the glass shower, it limits the amount of people who can be getting ready at the same time.
If the resort has a theme other than modern trendy, it would most definitely be "B" puns. They are literally everywhere!
The pool isn't anything special, but its serviceable.
It is on the smaller side, however it did seem bigger in person than it appears in pictures.
It is somewhat Mickey shaped.
Rooms located pool side are actually on the expensive side, though we wouldn't recommend the upcharge. The pool is open until 11 pm so you are likely looking at a lot of noise until then.
The hot tub is super small.
In addition to a poolside bar (which oddly closed at 8 pm),  there is a large recreation patio with pool tables, sofa seating and some over sized games.
There spa mentions in B Resort and Spa is currently closed through late fall 2019.
The hotel's main restaurant is the American Kitchen, which advertises the use of farm fresh and sustainable ingredients.
The decor is very chain restaurant-esque, which isn't necessarily a bad thing.
We ate there for breakfast one morning, taking advantage of a really solid buffet.
All the food was hot and fresh by buffet standards. It was continually replaced and nothing was running low at any time we were there.
There is a quick service / coffee shop as well.
Overall, there is certainly value to be found by staying at B Resort and Spa. You are trading theme in exchange for a bit more of a luxurious, albeit a bit bland, feel. The rooms are nicer than you will find in any Disney value resort, many of which have been stripped of theme themselves in recent refurbishments.
Many folks, including us, often stay off site since you can find much nicer rooms for less money than it cost to stay at a Disney resort. This is a nice compromise for that crowd as you still get a high quality room at a good price, and you get many of the main perks staying at a Disney resort as well.
If you can find a rate which is comparable to a Disney value resort, we say give B Resort a shot. If you are looking at a rate more comparable to a Disney moderate resort, we'd probably lean towards the Disney option due to similar amenities and far better theming.